This exciting event is hosted by Permaculture SA and the Adelaide Sustainability Centre
Facilitated by Beck Lowe, Retrosuburbia chief editor, researcher and project manager and experienced permaculture trainer.
May 11 & 12: A two-day intensive on how to use Retrosuburbia for your family, house and community
May 13th: A one-day Trainers and facilitators add-on day for using Retrosuburbia resources in trainings, workshops and community groups
Fully catered including a delicious local lunch by The Foodprint Experience. All food and drinks organic and as local as possible.
Cost
May 11 & 12 (2 days) : $250 waged, $180 concession/Permaculture SA member
May 11 - 13 (3 days) : $350 waged, $280 concession/Permaculture SA member
Enquiries to Lachlan on 0499 570 199
About the workshop
Two day RetroSuburbia Workshop May 11th & 12th
Are you looking to create a more sustainable and resilient household? Wondering how to retrofit your current home or circumstances? Wanting to grow more food, reduce your energy use and enjoy a more satisfying, fulfilling life? These and other themes from David Holmgren's new book RetroSuburbia: the downshifter's guide to a resilient future will be explored in this two-day workshop. Participants will undertake activities and exercises to help them assess their current situation and plan for the future as well as have the opportunity to ask questions and discuss various aspects of the book.
Trainers and Facilitators add-on day May 13th
Trainers, educators and community facilitators who would like to incorporate more retrosuburban themes into their practice are invited to attend an extra 'Trainers and Facilitators' day at the end of the workshop. Participation in this add-on day allows attendees to become registered retrosuburban trainers with access to extensive training resources, and to apply to have their courses listed on retrosuburbia.com. This day will explore further methods and tools for supporting people to create fulfilling, abundant and sustainable lives through retrofitting their homes, gardens and lifestyles. It is also a chance to share your ideas and experiences with other participants working in similar fields, and explore retrosuburban themes in more detail. It is expected that participants on this day will have already read and be familiar with the material in RetroSuburbia.
Beck Lowe worked closely with David Holmgren on RetroSuburbia as chief editor, researcher and project manager. Since publication, she has also taken on the role of education coordinator. She is an enthusiastic and experienced permaculture educator and has been involved in permaculture training at all levels for more than 15 years. She has practical permaculture experience in private and community spaces in inner city, urban and rural areas.
Permaculture SA is a non-profit organisation whose purpose is to promote, practice, and represent permaculture in South Australia. We support the South Australian permaculture community and the local permaculture groups in urban and rural South Australia.
The Adelaide Sustainability Centre is a non-profit community environment centre located in the heart of Adelaide. With a focus on meaningful connection with nature and sustainable urban living, the centre regulary runs events and workshops to build community connections and capacity. They are supported by the Adelaide and Mount Lofty Ranges Natural Resources Management Board and Conservation SA.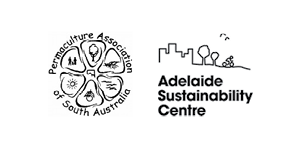 WHEN
May 11, 2019 at 9:00am - May 12, 2019
CONTACT
Diane Salvi · · (08) 7123 2166